Laptop and Library Books/Resources Check in/out Event, August 17-19
IMPORTANT INFORMATION FOR FALL SEMESTER
Welcome to your Fall 2020 semester. Students have an opportunity to borrow laptops and library books from the Miramar College Library.  To reserve your laptop or library materials, please submit your request by Saturday, August 15, 2020. Here's how:
How to request materials
Navigate to the Miramar College Library website.
Search for library materials in OneSearch.

To search for student laptops type "Laptop Acer" in the search box, then click on "Laptop, Acer Aspire 5" or follow this direct link.
Follow this link to search for textbooks on reserve.
To search for other print materials, type your search terms in the search box and refine your results by limiting to Library: San Diego Miramar College.

Click the title of the laptop or library book/resource you wish to request.
On the "Get It" section of the page, click on "mySDCCD Login."
Log in with the following:

Username: your student 10-digit ID number.
Password: the password you use to log into your mySDCCD portal.
Only students who are enrolled in the current semester are able to place requests.

Click "Request."
Provide the following contact information in the comment field to assure that contact information is accurate within our library system:

Phone number
Email address
Checkout will be on a first-come-first-serve basis while supplies last. Only currently enrolled students may checkout laptops and books. Please provide a valid photo ID (e.g., driver's license, high school ID) along with your college ID during this event. The check in/out location will be at the northeast side of the L-LLRC building (L-Library Learning Resource Center). Signs will be posted to direct pedestrian traffic towards the location under the Miramar College teal canopies. 
Dates and Hours of Service
August 17 & 18 (Monday & Tuesday), 10:00am to 3:00pm
August 19 (Wednesday), 12:00pm to 6:00pm
Location
L-LLRC Garage (Northeast side of building)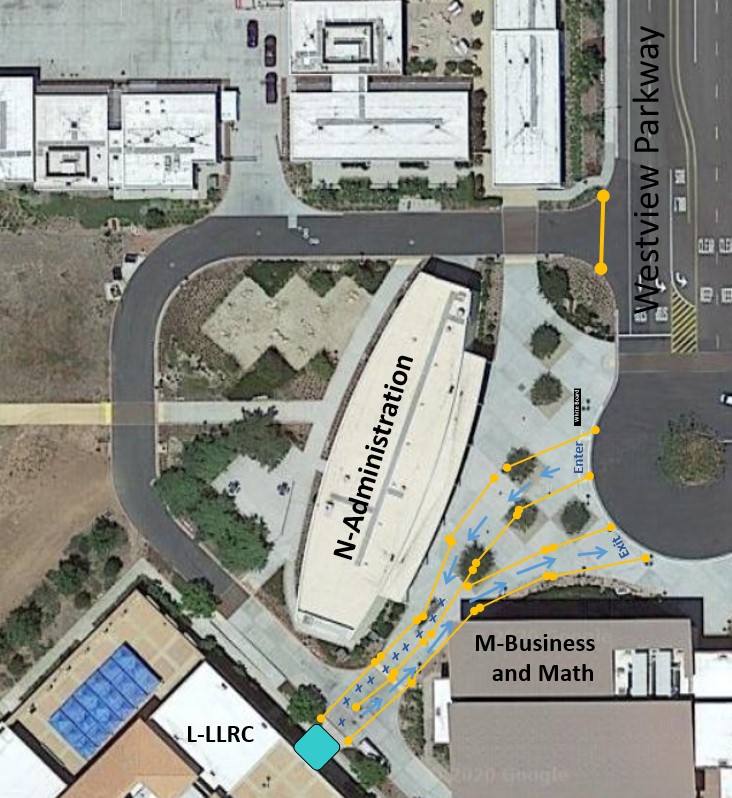 Just a reminder that the campus is still closed due to COVID-19.  Students can temporarily park at the round-about at the end of Westview Parkway by the N-Administration building and walk to the L-LLRC Building.  You can also park in Parking Lot 3 by the M-Business and Math building.  Public transportation is accessible via Miramar College Transit Center.  Our campus map can be found at https://www.sdmiramar.edu/index.php/campus/directions
For questions regarding this process, please call (619) 388-7310 and leave a message, along with your contact info and college ID number. Staff will be checking messages (Mon.-Fri., 8:00am-5:00pm) and will do their best to respond by the next business day or sooner, when possible.  You may also email Val Sacro at vsacro@sdccd.edu.
The health of our students, faculty, staff and the community are our top priority.  For information about COVID-19 (Coronavirus) specifically, please visit http://sdmiramar.edu/covid-info.
RETURNING YOUR CHECKED-OUT LIBRARY BOOKS
Did you check out books from the library last semester, but because of the COVID-19 campus closure you haven't been able to return them?
Even though the library remains closed, we have taken steps to make it easier for you to bring your books back. A self-service bookdrop has been set up near the main entrance to the H Building (Arts and Humanities).
To get there, enter parking lot #2 (the WiFi parking lot) from Black Mountain Road and head for the H Building. The bookdrop is located close to the curb right in front of the main entrance. Simply swing by and drop your books into the slot.
Parking lot #2 is open Monday-Thursday from 8am to 8pm and on Friday between 8am and 3pm.
IMPORTANT UPDATES
Dear Miramar College Community:
Although the Library/LRC buildings are now closed (due to the COVID-19 pandemic), access to library resources remains available:
Current Miramar College students, faculty, and staff still have access to the library's online research databases and ebook collections that are searchable through the OneSearch platform.
Personalized assistance and support—from your Miramar Faculty Librarian team—is available as follows:

For an overview of all options for getting research help, please see our Reference Assistance page.
For technical support with library database/e-resource access or logon issues, please email our Systems/Technical Services Librarian (Roger Olson) at rolson@sdccd.edu.
For library public service or reference assistance questions, please email our Library Dept. Chair/Public Services Librarian (Mary Hart) at mhart@sdccd.edu.
For library instruction or OER questions, please email our Instruction/OER Librarian (Angela Boyd) at aboyd001@sdccd.edu.

For general library questions, you can also call 619.388.7310 and leave a message, along with your contact info and college ID number. Staff will be checking messages (Mon.-Fri., 8:00am-5:00pm) and will do their best to respond by the next business day or sooner, when possible.
Additional Announcements: